Many people confuse the AR-15 and the M4, even those who are familiar with firearms. After all, they look alike and perform alike. However, there are marked differences that you should know, especially if you are into custom building either model.
RailScales offers the best rail covers, AR-15 foregrips, and other AR-15 accessories. Since 2014, we've been manufacturing industry-leading tactical and textured rail covers that are extremely comfortable, razor thin, and offer a direct attachment method. They feature 416 stainless steel hardware that we manufacture in-house and that is backed by our limited lifetime warranty. Below, we'll take a look at the differences between an AR-15 and an M4. Shop all of our AR-15 accessories, including hand stops, today!
Brief History
The AR-15 came to prominence during the Vietnam War. It was designed with the idea to make an all-in-one rifle that the military could use and be more functional. It was revamped into the M16, designed to be lighter to carry and have a higher shooting speed. From the M16 came the M4. It was developed in the 1980s in response to the military's request primarily for a shorter firearm and an even lighter one. The M4 has been the primary rifle of the U.S. military and was officially adopted as such in 1994.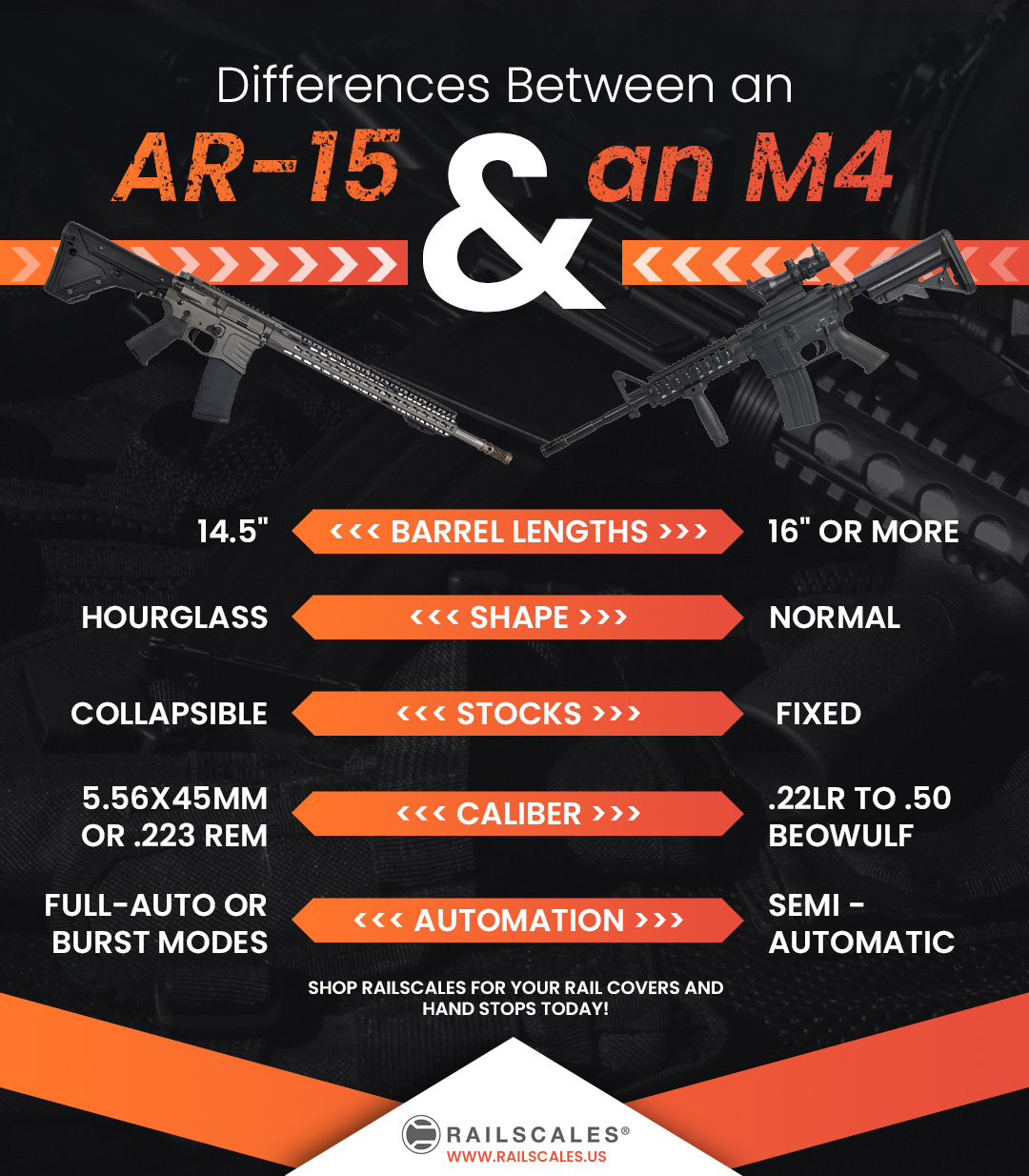 DIFFERENCES BETWEEN THE AR-15 AND THE M4
Barrel
Barrel length is probably the most noticeable difference to an observer.. The M4 is 14.5 inches and the AR-15 is 16 inches. You will see custom AR-15s with longer barrels up to 20 inches. With the shorter barrel comes a shorter gas tube, so it can handle decreased pressure. The M4 has a collapsible stock by design, whereas the AR-15 is designed with a fixed stock, but since so many people customize their AR-15s, this could change.
Shape
The M4 boasts an hourglass shape, which was specifically designed by the military in order to accommodate grenade launchers. On the contrary, you will not see that on the AR-15. That being said, they still handle very similarly and are extremely comfortable when shooting.
Caliber
All M4s boast the same caliber, which is 5.56x45mm. The AR-15 caliber will vary dramatically. This is due to different manufacturers and the plethora of custom AR-15 builders. AR-15 upper receivers are one of the most popular aftermarket AR parts, which allows for the complete customization of the rifle. Depending on the use you intend, you can make your AR-15 caliber whatever you wish, from hunting small game to large game if you are a hunter, or you just want a firearm with some kick to it.
Automation
Almost all AR-15s are semi-automatic. The M4s as military weapons feature burst fire and automatic capabilities. In addition, the M4 is only manufactured by FN Herstal and Colt for the military. In addition, M4s are classified as assault rifles; whereas, AR-15s are considered just a type of rifle. This difference is important to note since many people confuse the two.
Similarities Between the AR-15 and M4
Despite their differences, the AR-15 and the M4 are extremely similar. They use many of the same components, such as the same charging handle, trigger assembly, many parts of the upper and lower receiver, and the bolt carrier group. You can even use the same handguards and rail systems as well. In sum, if you pick up either firearm, you will be able to operate each one swimmingly.

CHOOSE RAILSCALES FOR ALL YOUR AR-15 ACCESSORY NEEDS TODAY
The M4 could be more accurately described as the carbine version of the M16, which is the military version of the AR-15. The AR-15 is one of the most popular firearms in the United States — and for good reason. They get the job done, they are great for self-defense, they are fun to shoot, and they are completely customizable so you can create the firearm that fits you perfectly, which is super important for accurate firing. Since everybody is different, having the ability to create a firearm that fits your grip, stance, hold, height, and other unique features is huge in many people's books and why they are attracted to such a firearm.
RailScales is proud to offer our best rail covers to gun owners across the nation and around the world. We've poured our hearts and souls into ensuring your gun fire is safe by mitigating heat build up and improving your grip. With our Karve hand stops, you'll have a great steadying point, and our iron sights are perfect for laser mounting. We also offer a sling mount. Our mission is to provide you the perfect AR-15 accessories that will help you improve your accuracy, performance, comfort, and fun while shooting.
If you are interested in any of our AR accessories, browse our site, and order online today!