Let's face it, if you don't have some sort of sight on your firearm, you might as well be shooting blind unless you spend an insane amount of time practicing. Luckily, almost every firearm manufactured has sights built in (the first sights were invented in the 1400s), but, depending on the model, you will have a flat-topped pillar as the front sight with a rectangular notch as the rear sight, which is known as the Partridge system that was invented in the 1800s. This is great for handguns, but for long range rifles, you will most likely need to upgrade to improve your accuracy, performance, and target shooting down range.
RailScales offers our LEAF DBAL Fixed Iron Sights for DBAL Lasers. This AR-15 accessory mounts to your laser, freeing up rail space and eliminating your folding front sight. You mount this to your laser and adjust your rear windage to your red dot. In addition, RailScales makes our G-10 rail covers, Karve hand stops, and 1911 grips. Recently, we've updated our LEAF- DBAL to Version 2. Below, we'll go over the specifics of our update and why we think this is perfect for your needs. Visit us online, and shop today!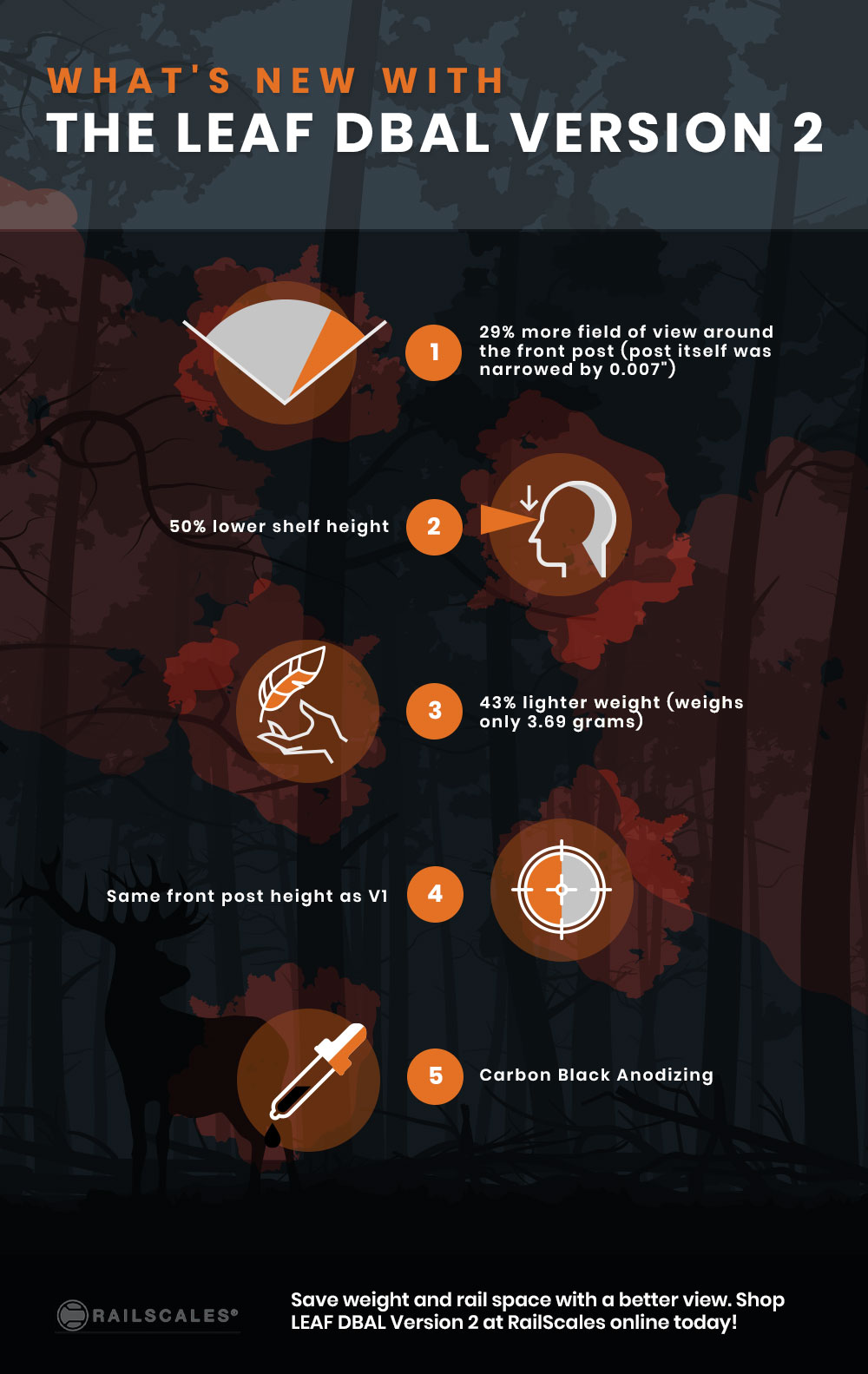 WHAT'S NEW WITH THE LEAF DBAL VERSION 2
While the basics of our DBAL have stayed the same, we've made some small improvements based on customer feedback that we think you'll love. The biggest noticeable difference is in the field of view around the post. We've decreased the main body by 50%, yielding an additional 29% of additional viewing. This allows the post to appear taller and opens up the view.
In addition, the post itself was narrowed by 0.007". This cool new feature now lets you place your sight more precisely to adjust for your unique viewing position. This gives you more wriggle room for a customized placement. This also gives you a better view around the post.
While our LEAF DBAL sight was very lightweight before, we've made it even lighter (and as you know, every little bit helps when you are trekking through rough terrain). Now, our LEAF DBAL Version 2 weighs only 3.69 grams, which overall is a 43% weight reduction from our previous model.
We've changed the color of this great iron sight! Now, you will be able to get LEAF DBAL Version 2 in Carbon Black anodizing, rather than Orbital Grey. Plus, we've taken the liberty of enlarging the front ear post serrations, which have created a larger difference in shadow.
WHAT HAS STAYED THE SAME
LEAF DBAL Version 2 has the same post height as Version 1.
Let's review the specs one more time.
What has changed in LEAF DBAL Version 2:
29% More field of view around the front post.
50% lower shelf height.
43% lighter weight.
Same front post height as V1.
Carbon Black Anodizing.
What has remained the same in LEAF DBAL Version 2:
CNC Machined
6061 T6 Aluminum
50/200 preset elevation zero
Featherweight 0.2oz
Carbon Black Type 03 Hardcoat
Mounting Hardware is Included
Save weight from having to have a Troy 1.3oz, Magpul Pro 1.3oz, KAC 1.1oz , MBUS 1oz
Save up to 7 Picatinny slots regained by folding front sight removal.
CHOOSE OUR LEAF DBAL VERSION 2 IRON SIGHT TODAY
RailScales is super excited to be bringing you our LEAF DBAL Version 2 Fixed Iron Sight. This sight attaches directly to DBAL laser modules that then allows you to get rid of your folding front sight. You also save valuable rail space. Plus, the laser is now in the best position by being at the front of the rail, and you still have your back up irons as well. Installation is easy; simply mount to your laser and adjust your rear windage to your red dot. And now you are ready to hit the range!
RailScales is a family-owned company that began in 2014 in response to what we saw as a lack of high-quality textured rail covers on the market. In fact, what we found were ones that didn't do the job for heat resistance, were cumbersome, and that fell off easily due to attachment limitations. We then engineered our proprietary RailScales which use G-10 polymer fiberglass laminate composite material that is super thin with a patented texture that offers a superior grip. We also fixed the attachments so you can be sure they will stay in place.
Our mission is to help you with the AR-15 accessories you need. Our AR-15 foregrips are the best in the industry, and our LEAF DBAL Fixed Iron Sights help you enjoy your shooting time further.
If you are interested in checking out our new LEAF DBAL Version 2 sights or any of our other AR-15 accessories, such as angled foregrips, visit us online today!