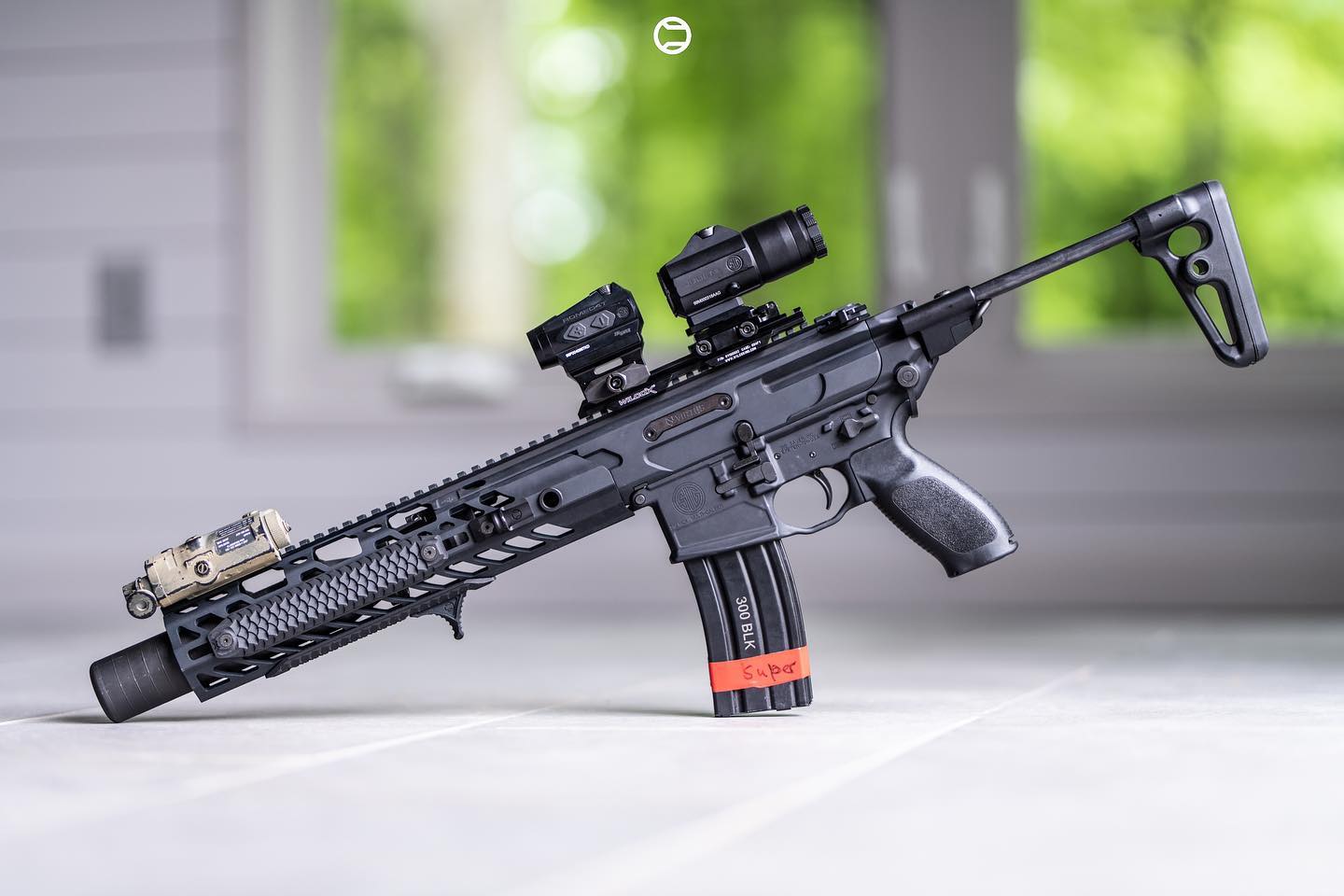 Building your own AR-15 is fun and exciting, especially if you like puzzles. From the parts of an upper receiver, such as the barrel and bolt carrier group to the parts of the lower receiver, such as the buffer tube and mag release, assembling an AR-15 is a great project for anyone. One of the most important decisions you'll have to make early on is what caliber to choose for your AR-15. With so many options, how do you choose?
RailScales offers the best rail covers made from the highest quality materials available. Featuring a textured grip, you'll be shooting more accurately and comfortably. We also offer handstops and vertical grips, as well as iron sights. Below, we'll go over five tips on how to choose the perfect AR caliber for your custom AR-15. Shop our AR-15 accessories online today!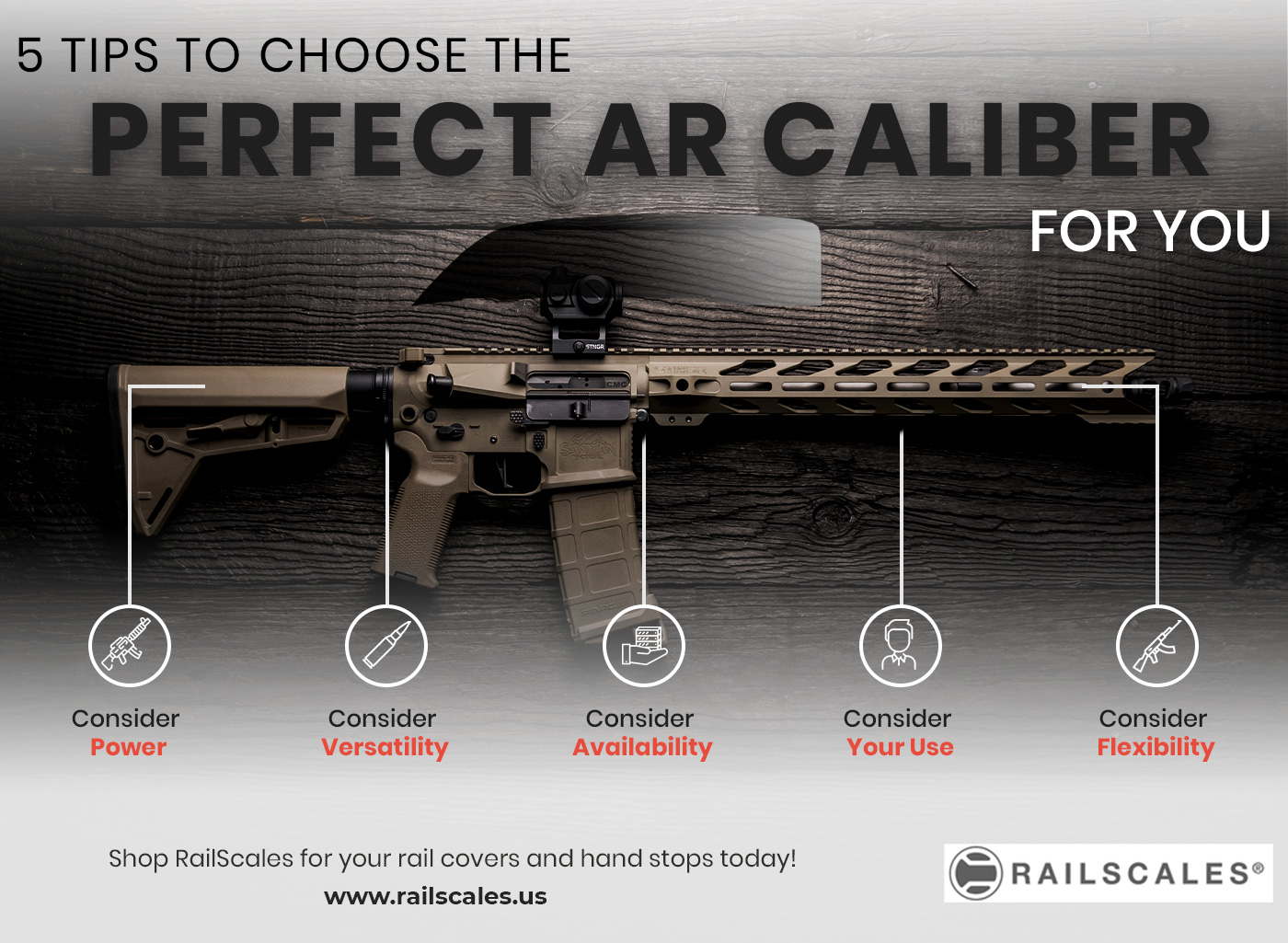 5 TIPS TO CHOOSE THE PERFECT AR CALIBER FOR YOU
Consider Power
When searching for the perfect caliber for your AR-15, many people consider the power of the cartridge. Most people believe that the bigger the bullet, the more stopping power it has and thus the more effective it will be. However, that is not always the case. The stopping power of a cartridge has to do with two things: velocity, or the speed of the bullet, and penetration, or the ability for the bullet to go through its target. Weight, or bullet grain, is an important factor for penetration. A heavier bullet will have more penetration power than a lighter one because it will travel further and faster before being pulled to the ground by gravity.
Consider Versatility
The AR-15 is one of the most versatile firearms there is. With the array of AR-15 accessories on the market today, such as rail covers, handstops, and vertical grips that RailScales offers, you can make your firearm exactly how you like it. Similarly, by researching the caliber, you can have a very versatile AR-15 for all of your needs. For example, the .300 Blackout is a great caliber for self defense, hunting, and target shooting. If you are looking for a good, all-around caliber, think of your uses and then find the caliber that will make the most sense.
Consider Availability
The AR-15 is known worldwide as being one of the most flexible firearms on the market. Thus, as you're building your AR-15 or perhaps you are upgrading or modifying an existing one, odds are, there are parts and cartridges available for your preferred caliber. That being said, some caliber bullets are easier to get a hold of than others. For instance, the 5.56 is usually relatively easy to get a hold of because it's one of the more popular options. If you choose an unpopular caliber, you'll have to be prepared to stock up on ammo when it's available.
Consider Your Use
Different calibers are useful for different types of shooting endeavors. For example, the .458 SOCOM is not the best for long-range hunting. This caliber is ideal for short barrel rifles and for personal defense. Thus, if you are a hunter and are outfitting your custom AR for that main purpose, you should choose a caliber more suitable to hunting. But if you are looking for a home defense firearm, then this caliber is a great choice. We recommend that you let your use play a large role in your choice of caliber.
Consider Flexibility
Many people like to repurpose their AR-15 and use the same firearm for multiple uses. For instance, if you like to shoot competitively but you also hunt, you'll want to choose an AR-15 caliber that is ideal for both, something like the 6.5 Grendel. That being said, this may be difficult to find the ideal for both. Thus, you'll want to consider an AR-15 that can easily have its upper receivers and more switched out so you can easily retool your AR-15 when the time comes. Flexibility is one of the main reasons people invest in an AR over other firearms, so this is relatively easy to do, especially if you are familiar with guns.

CHOOSE RAILSCALES FOR ALL YOUR AR-15 ACCESSORY NEEDS
RailScales offers the best AR-15 accessories on the market today. Our rail covers are made from G10 material, which is a fiberglass laminate made from a composite material of glass cloth and epoxy resin. This material is super thin and extremely tough, making it a great grip to add to your AR-15. They come in a variety of colors and patented textures for the perfect grip for you. Our Karve handstops are perfect for your use, as well as our vertical grips that are CNC machined for perfection every time.
In addition, we offer our Ascend 1911 Scales, which are 1911 grips made with our patented honeycomb texture for superior grip and control, as well as cover more area. Our LEAF DBAL fixed iron sight for DBAL lasers mounts to your laser so that you have more rail space and more view around the post. One of our newest AR-15 accessories is the RLM recessed light mount so you can add a Scout patterned weapon light to your MLOK rail.
Once you've decided your AR-15 caliber and have your custom firearm ready to go, consider our AR-15 accessories to further customize your firearm and make it comfortable to shoot every time you hit the range. Browse our selection, and order online today!