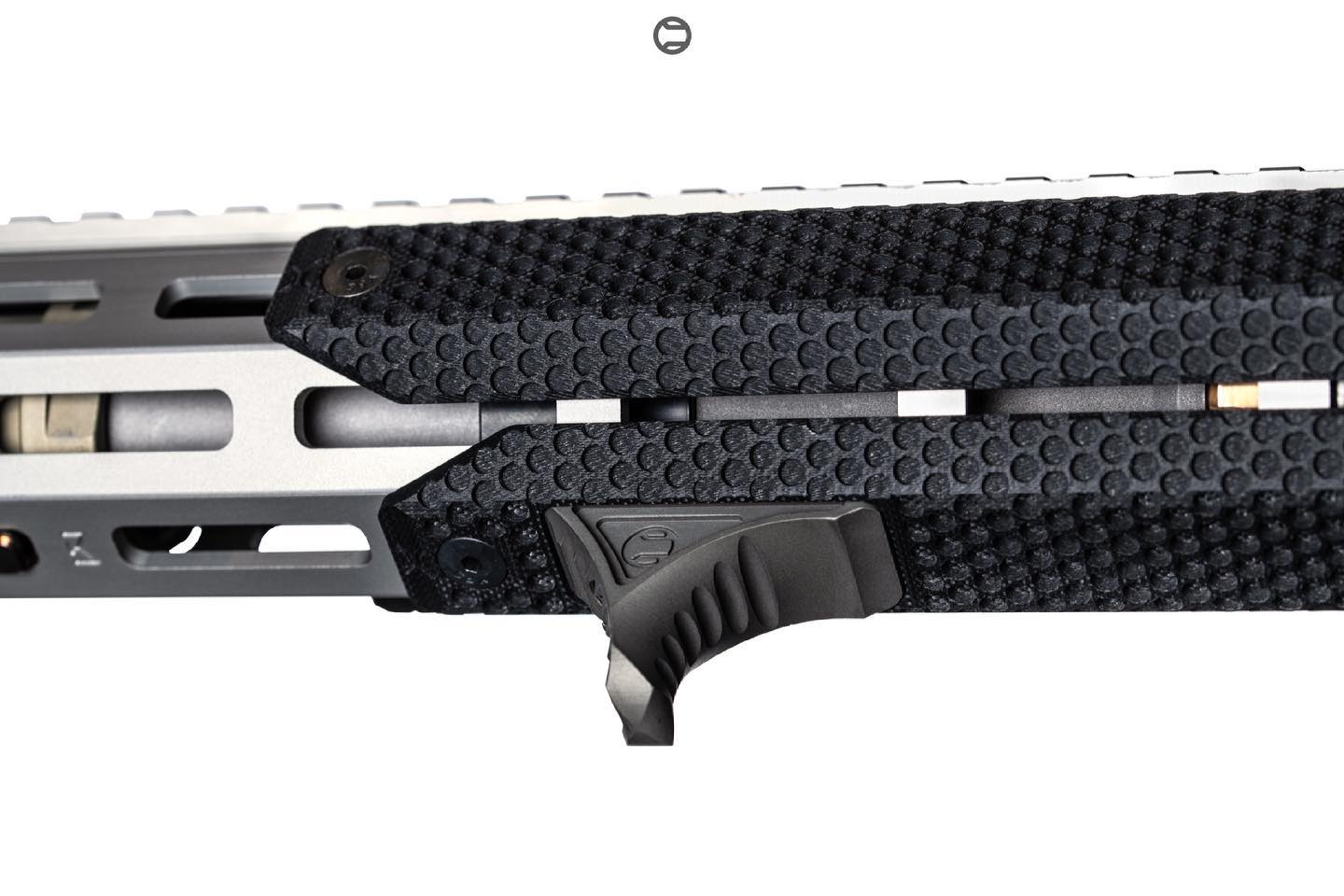 When it comes to AR accessories, there are many theories on which is the better grip: angled foregrip, handstops, or a vertical foregrip. In essence, what it comes down to is personal preference. However, there are definite benefits to each, and today we're going to take a look at the benefits of angled foregrips.
RailScales makes the best rail covers in the industry. We also craft handstops and vertical foregrips for both the Picatinny rail and the MLOC rail. Our Karve® Bi-Directional Stops are some of the most versatile handstops on the market, looking and feeling like an angled foregrip. Below, we'll take a look at some of the benefits of angled foregrips, and shop our AR accessories online today!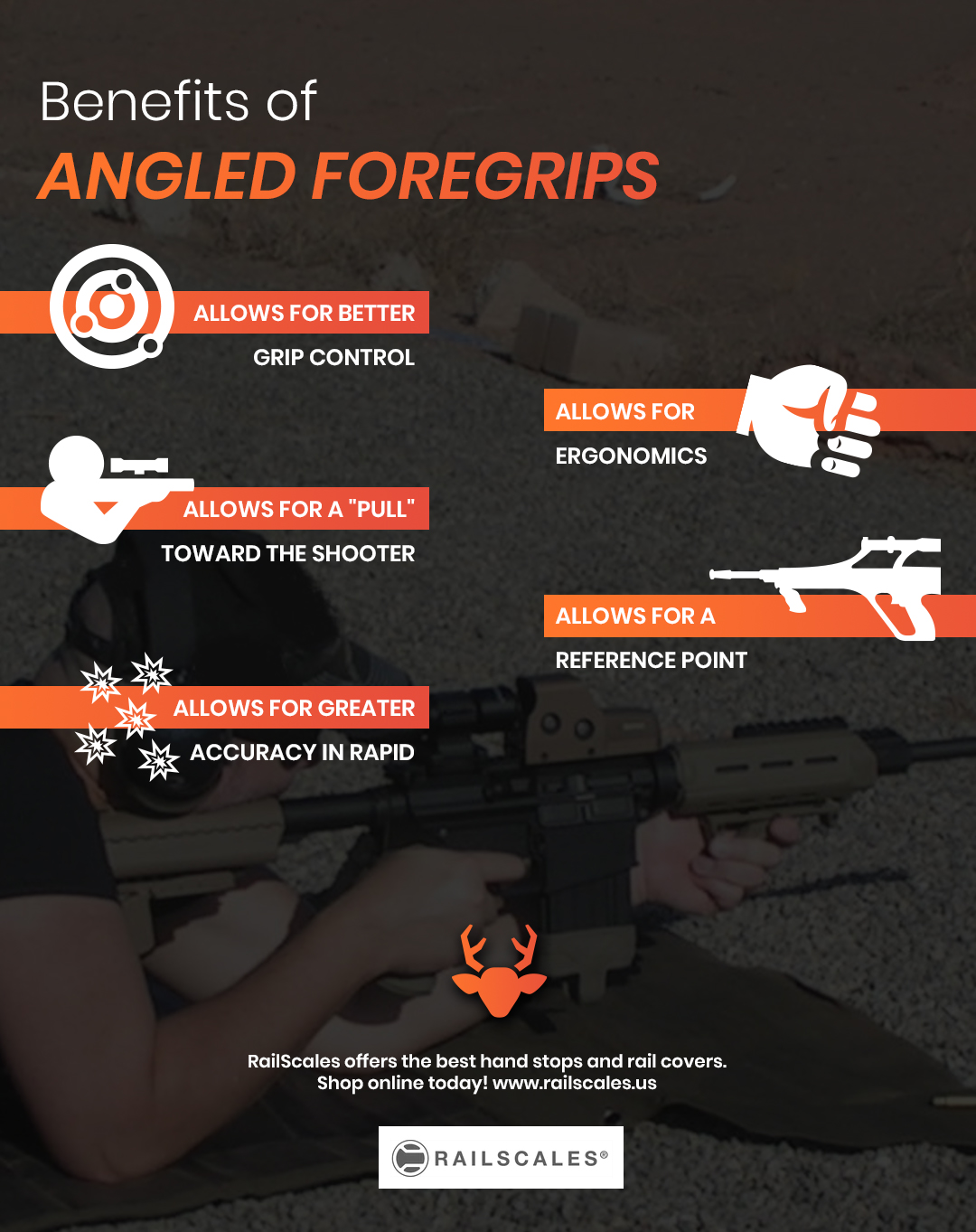 BENEFITS OF ANGLED FOREGRIPS
Allows for Better Grip Control
When shooting your accuracy is due in large part to your grips. You need to have your AR-15 move as little as possible besides the recoil when you fire. This entails having the gun placed solid against your shoulder and then having your hand somewhere on the barrel of the gun. This is where personal preference comes in. RailScales makes our rail covers in order to protect your hands from the heat of the firearm from shooting and to offer a better grip, too. In addition, you hold onto the angled grips to control and steady the barrel of your AR.
Allows for a "Pull" Toward the Shooter
When shooting any type of rifle, including the AR-15, you need to have it secure in your hands. This is why you want the rifle tight against your shoulder. Not only does this help to reduce recoil, but it steadies your AR-15. As mentioned before, when firing you want as little movement as possible. Thus, you pull your AR-15 into your shoulder to help reduce movement and to ward off shoulder bruises. The goal is to move as one unit. Similarly, angled foregrips allow you to pull the AR-15 into you as you fire, further helping reduce movement and aid control.
Allows for Ergonomics
Angled foregrips put your hand in a supination position. This is where your hand is facing with the palm up and your knuckles are facing the ground. In this position, you will feel less fatigue from shooting because the muscles being utilized (the supination muscles) are stronger than other muscles typically used to hold your AR-15. It also allows for better control all around. If you shoot regularly or for long periods of time, angled foregrips definitely offer an advantage over other grips. Many people say that angled foregrips allow for the most natural and comfortable hand position amongst all AR-15 grips.
Allows for a Reference Point
Angled foregrips make it easy for you to place your hand in the same spot every time. Just like any sport, practice makes perfect, and when you consistently are able to shoot with your hands in the same spot, you will get better faster. This will increase your accuracy, plus improve your comfort level with your AR-15. Let's face it, it can be intimidating to shoot a semi-automatic rifle with its rapid fire power. Having points that guide you can help you relax and be a better shooter overall. Being accurate is important whether you are a recreational shooter, you shoot for self-defense, or you shoot competitively. Plus, it's really not fun when you go for a day at the range and all can't hit the target.
Allows For Greater Accuracy in Rapid Fire Situations
Many people struggle with muzzle climb (or muzzle rise or muzzle flip). This is when the barrel tends to rise after firing due to the recoil of rapid fire and the shooter's inability to adjust quickly enough. This is most definitely a skill that is learned over time. Angled foregrips are particularly adept at helping to reduce this tendency. This is because the closer your hand is to the rail of your AR-15, the better your form is and the more able you are to pull the firearm into your shoulder. The tension in the shooter's hands are also greatly reduced. This leads to a higher accuracy rate with multiple rounds, a more fluid motion, and a faster transition from target to target.

CHOOSE RAILSCALES FOR ALL YOUR HANDSTOPS, GRIPS, AND RAIL COVERS TODAY
RailScales is a family-owned business that began out of the need to make a better rail cover than what was currently on the market. Thus, we created a textured grip for MLOKs, Picatinny, and KeyMod rails that are incredibly thin, strong, made from some of the toughest material available, and are easy to attach. Plus, they get the job done and look great on your AR-15. Our rail covers come in a variety of colors and patterns to suit your tastes.
But that's not all. We also offer our Karve® machined handstops that are extremely versatile. Made from 6061 Billet aluminum and coming in three colors, this handstop offers the best of an angled foregrip and a handstop. It is reversible so it can accommodate a "push" or "pull" style grip, and this AR-15 handstop only takes up one MLOK slot or two KeyMod slots. Lightweight and ready to install and work when you are. Check out our vertical foregrips, too.
From our DBAL iron sights to our 1911 grips, we've got all of your AR-15 accessory needs covered. Browse our selection, and order today!