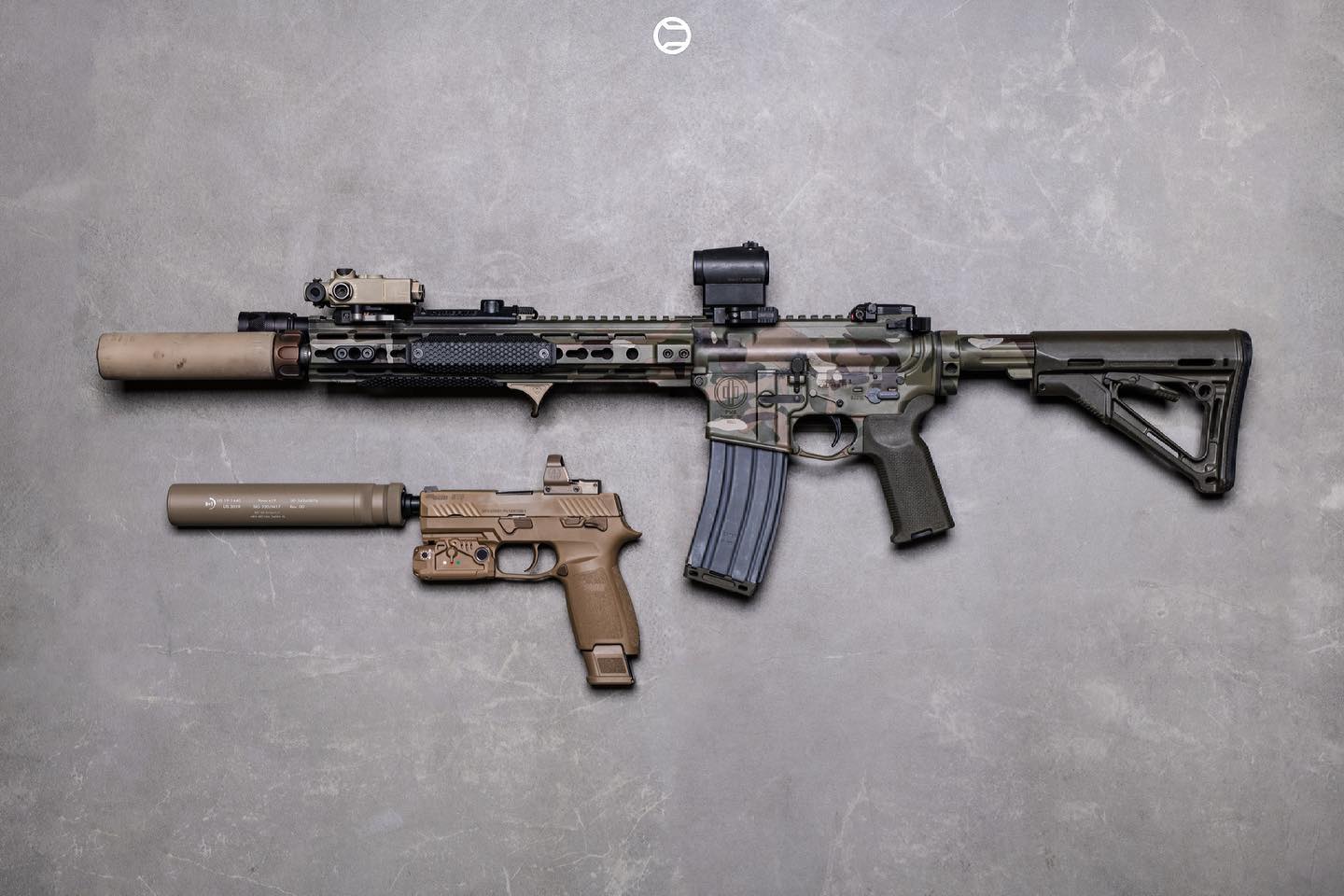 When shooting, it's super important that you are comfortable with your firearm. When you are comfortable, soon your gun will begin to feel like a part of you. Since all of our hands are different, it makes sense that the grip on a gun will be different for everyone. Customizing your grips is paramount to improving your accuracy and performance while shooting.
RailScales offers many different types of grips and hand stops for you to choose from, including vertical grips and our own Karve® Bi-Directional Stop that helps with forward hand control. In addition, we offer 1911 Grips that are made from our premium G10 material that is lightweight and thin. In conjunction with our rail covers, we've aimed to provide you with the ultimate in handling performance so that when you are shooting, your firearm is an extension of you. Below, we'll take a look at some of the benefits of custom grips, and we invite you to shop online with us today!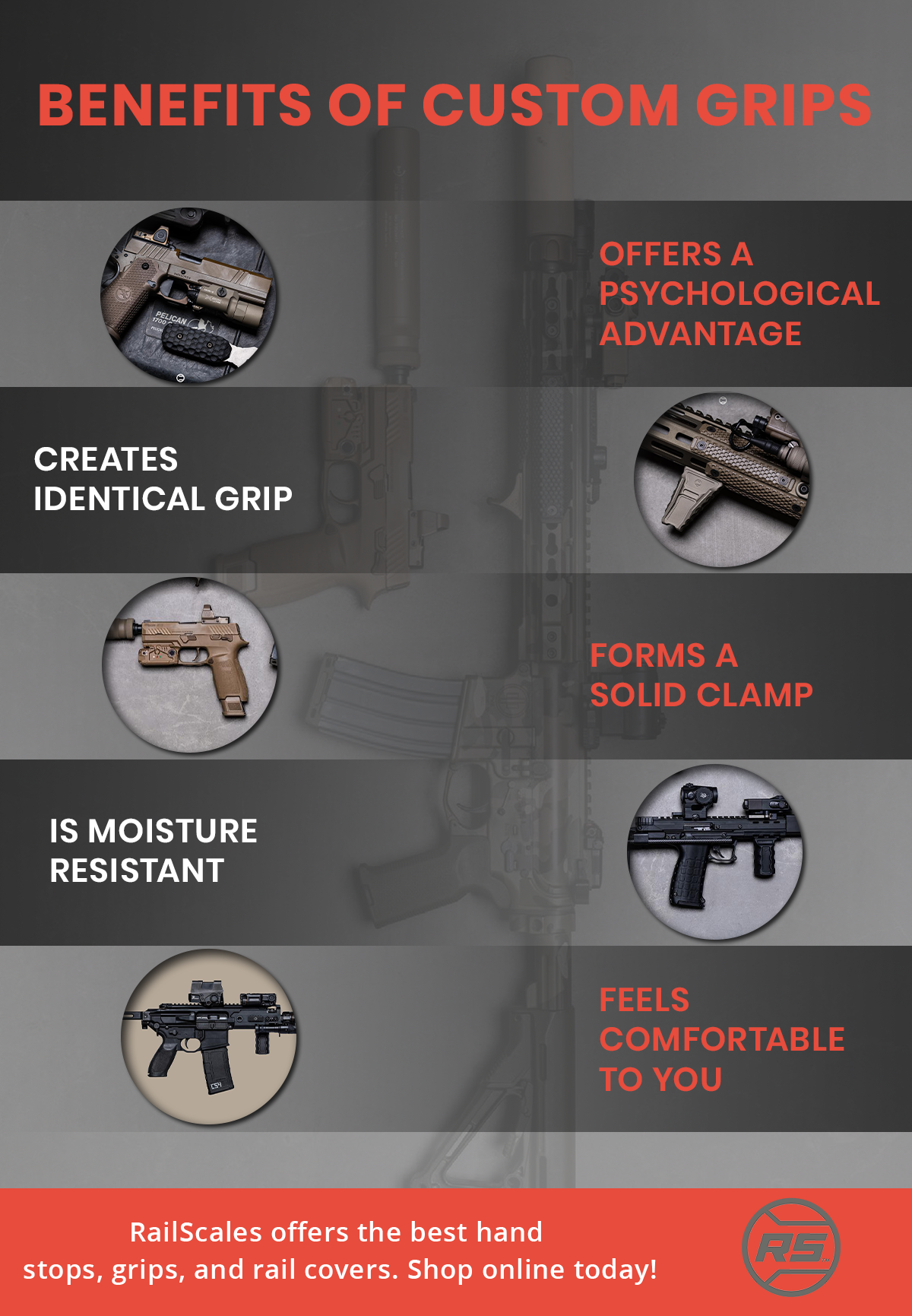 BENEFITS OF CUSTOM GRIPS
Offers a Psychological Advantage
Once you've gained a certain level of competency with your chosen firearm, the challenge of shooting accurately moves into a psychological challenge. It's about bringing your A game, especially if you've entered a local shooting competition. This is true in any sport, which is why the field of sports psychologists have erupted. Keeping your head in the game can make all the difference. When you have custom grips for your pistol or rifle that you are comfortable with, you'll have confidence in your gear. This will help you to perform your best every time because it eliminates the excuse of faulty equipment.
Creates Identical Grip
When you are trying to improve your accuracy and overall get better at shooting, the goal is to grab your firearm with the same grip every time. When you have the same grip, it's much easier to control the recoil and get set again quickly to fire repeatedly. Custom grips, including our 1911 grips, can help you achieve this goal. It also helps eliminate muzzle climb, which is when the barrel or muzzle of your firearm slowly begins to rise as you fire because of the recoil. When shooting you want to encourage muscle memory as much as possible so you can free your brain to concentrate on other tasks.
Forms a Solid Clamp
Clamping your firearm is when you have a solid grip with the palm of your hand around the grip of your pistol or rifle. The only part you want to move once you've gripped your gun is the finger you will use to pull the trigger. Many people use a two-handed hold on the gun in order to help steady it, decrease movement, and decrease the impact of the recoil. Here, your dominant hand will grip the gun, while your other hand wraps around the fingers of your dominant hand. Then place your thumb next to the other thumb. You'll want to push forward with your dominant hand and pull backwards with your weak hand. Solid clamps are easier when you have custom grips that are molded to fit your hand.
Is Moisture-Resistant
If you've been shooting at an outdoor range in the middle of the summer, you know that your hands can get pretty sweaty. This most definitely can impact your shooting if you just can't get a good grip on your firearm. Plus, having a super sweaty hand can impact your mental game and just not feel comfortable either. You want custom grips that are moisture-resistant and will help whisk away sweat so you can enjoy shooting in the warm summer months. RailScales' G10 custom grips are made from fiberglass laminate, a composite material. Plus, our custom grips are super thin, so you there isn't a lot of material for sweat to hang on to. Made with our textured grip that has spaces, you'll soon see that moisture does not hang out very long.
Feels Comfortable to You
Truly, when your custom AR-15 grips fit you like a glove and you can grab your 1911 or other pistol without trouble, you won't worry about the fundamentals of shooting as much. In fact, you want to eliminate all distractions and excuses while shooting. Aesthetics can help performance as well because you feel good about your firearm. This is why RailScales makes our rail covers, grips, and hand stops in many different colors and patterns to match your gun or to add style to it. Many people paint their AR-15 cool custom colors because they like the look. When you have a beautiful firearm you love, this fact can add confidence to your shooting as well. Ultimately, you want custom grips that feel natural when holding them, that fit your hands perfectly and don't bother you, and that keeps down the heat and ensures your hands don't move once placed. Comfort will translate into accuracy.

CHOOSE RAILSCALES 1911 GRIPS AND MORE TODAY
RailScales offers the best 1911 grips, rail covers, and hand stops for your AR-15 rifles and more. Our mission is to provide the best AR-15 accessories in the industry. We pour our heart and souls into crafting custom products that will help you become a better shooter. Our rail covers are lightweight, keep off the sweat and heat, and offer a great grip every time. Our vertical foregrips offer low mounting and 90 and 70 degree angles for optimal hand placement. Our Karve® machined handstops are compatible with MLOK and KeyMod rails. They feature a push or a pull style grip and come in three colors to customize your firearm with. Made from 6061 Billet aluminum, you won't be disappointed.
Being comfortable shooting a firearm is an important skill to master, from using for self-defense to hunting or at the range. Our AR-15 accessories are designed to create lasting comfort, ease, and plain fun while you are shooting. Made of superior materials and backed by our quality guarantee, you won't be disappointed. Browse our selection, and invest in comfort, style, and performance today!