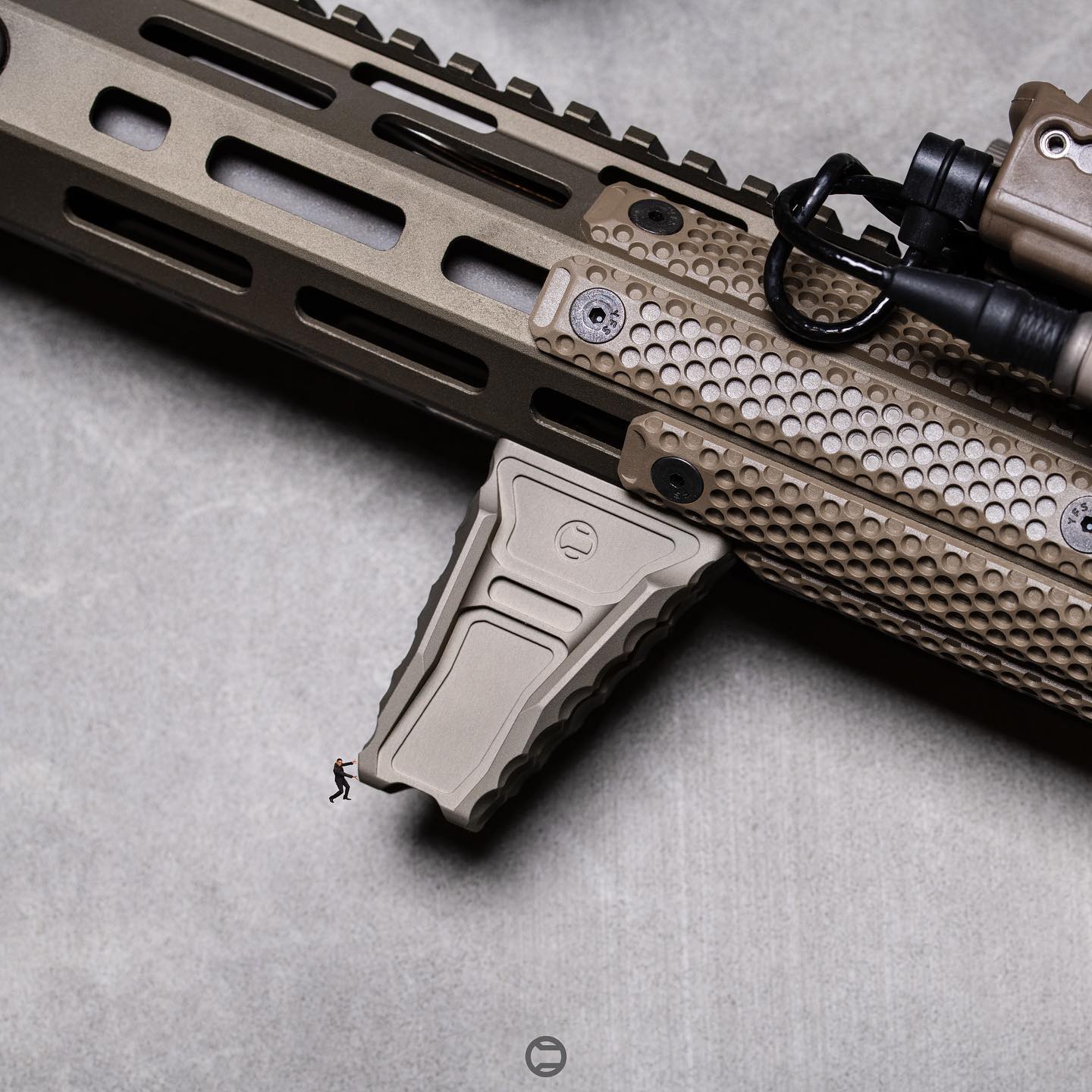 If you're a hunter, you need to be accurate in your shooting in order to take down your game. There are many ways to improve your accuracy with a rifle or an AR-15, which we discussed at length in a previous blog. However, one thing to focus on while hunting is your shooting position. This is paramount to shooting accurately.
RailScales helps hunters, shooting competitors, and recreational shooters who love to practice shooting their AR-15 with the best rail covers and grips on the market. Our industry-leading rail covers help to ensure a solid grip and that your hands don't become hot from the heat of the ammunition. In addition, we offer handstops and iron sights. Below, we'll go over the best rifle shooting positions, and invite you to browse our AR-15 accessories online today!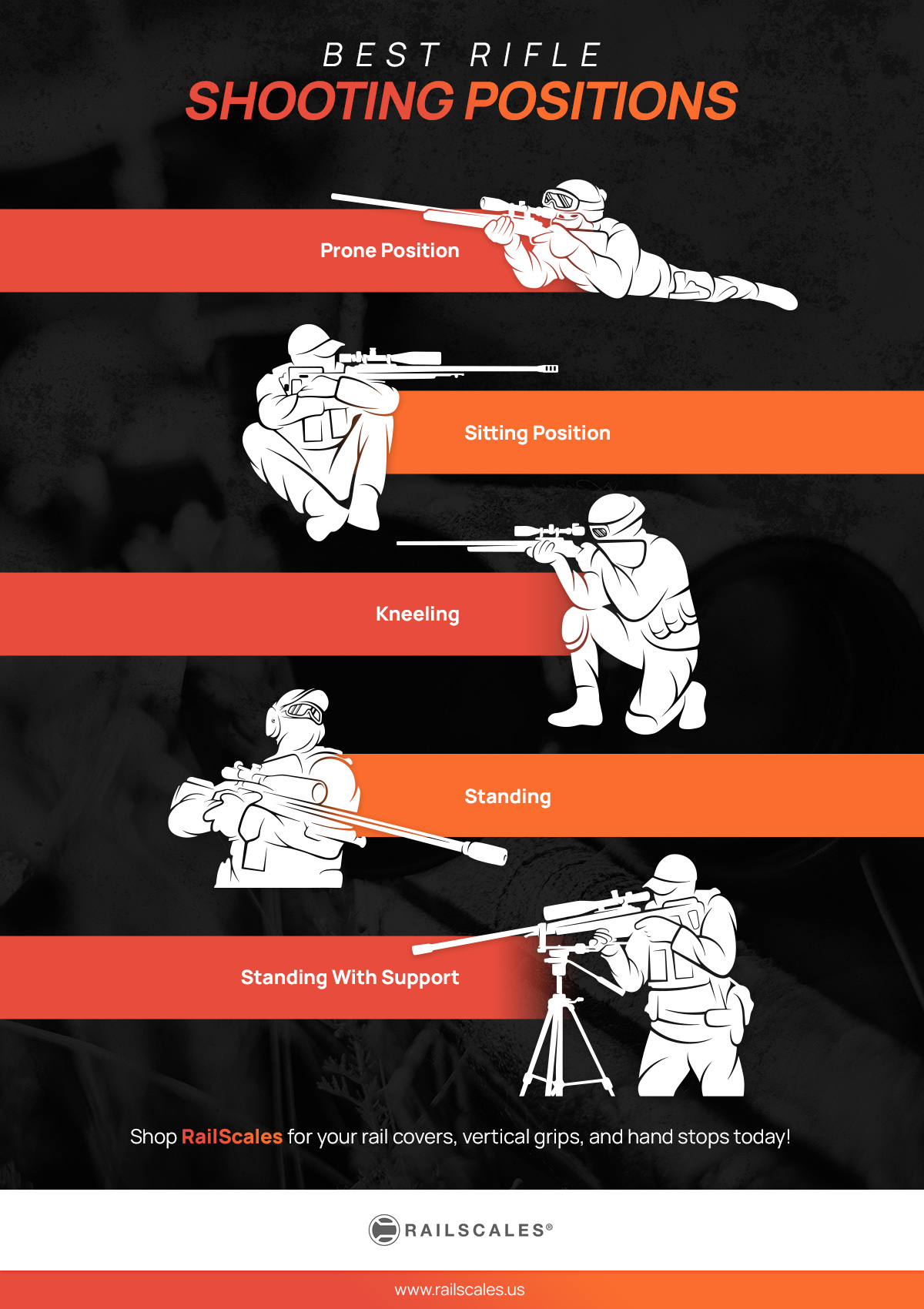 BEST RIFLE SHOOTING POSITIONS
Prone Position
The prone position is touted as being the most accurate shooting position, especially if you have a bipod. This is where you will be lying on your stomach with both of your arms supported on the ground while you hold the rifle. A bipod is an implement that attaches to the front of your rifle that supports the barrel for you. The prone position takes the longest to get into with the correct support, but it's very stable once achieved, and since it's low to the ground, the game cannot see you. Hazards include ensuring you don't get dirt into the barrel of your rifle, as well as not having a great line of vision due to vegetation in the way.
Sitting Position
The sitting position is a favorite shooting position of hunters because it's very comfortable and can be maintained for long stretches at a time. Here, both arms are supported by using the knees to rest them. You can cross your legs or leave them apart. You can also wrap your arm around a knee and rest your rifle on your forearm to shoot. Many hunters will find a tree or a large boulder for back support while they wait for game to pass by. You'll want to be sure to rest bone on muscle. Resting bone on bone can be painful if you fire due to the reverberations you'll experience, and it causes instability. This position is very stable for shooting.
Kneeling
The kneeling position is an extremely popular position for hunting because it's perhaps the easiest and the quickest to get into when you see big game. Here, you'll rest the elbow of your supporting arm on your knee when you kneel and the other arm will hold the rifle and fire. Again, be sure to avoid placing your elbow on the kneecap, which can cause you to wobble. This is a great position if the vegetation around you is knee high because you can still see adequately over the vegetation to shoot and you'll be hidden from the game at the same time. This shooting position is not the most stable since only one arm is supported, but if you have to fire quickly, this is a great choice. You can also use shooting sticks or slings in this position for a more stable platform.
Standing
The standing position for shooting takes much practice in order to be accurate, as well as strength to support your entire rifle, unless you are using support sticks or slings. However, with time, this is a highly-effective way to shoot game, especially at close range. It's the quickest since all you do is shoulder your rifle, and it's great for forest environments. You'll also have nothing inhibiting your view. However, be aware you will be supporting the full weight of the firearm. While you will probably be rushed if it's hunting, it's best to take a couple seconds and ensure you have a very stable stance.
Sling Stance
Many people use their sling to help create a more stable platform to shoot from. This method is usually employed in the standing position but can be used in the kneeling or sitting position as well. Here, you'll take your gun's sling and wrap it around your support arm. This creates tension when you shoulder your gun, helping to stabilize it so it doesn't move around. The sling will go across your chest. This shooting stance will need to be practiced ahead of time in order to ensure your sling is the correct length to be comfortable, to reach across, and to provide the proper tension to make this shooting stance worthwhile.
Standing With Support
The last shooting stance we'll touch on is the standing with support option. This option tends to be the ad hoc option, or the one you use by default or happenstance. In this case, you will use whatever is around you to provide support as you aim. This can be a tree where you will lean your rifle against it and press your hand against the stock so it's stable. Or, you can use a fallen log that happens to be in the right place for you to set up against. Whatever object in nature that will help you take down your quarry will be your standing with support. Alternatively, if you don't want to leave your shot to chance, you like the standing position, and you want to be prepared, you can bring shooting sticks along with you. While these may take a bit of time to set up, they are great for supporting the front of your rifle while you shoot.

CHOOSE RAILSCALES FOR ALL YOUR AR-15 ACCESSORY NEEDS TODAY
The key is to practice these shooting positions so that no matter where you are at when hunting, you'll have an accurate shot every time.
RailScales offers superb AR-15 accessories that can not only up your hunting game, but can truly make hunting and shooting enjoyable. We began in 2014 with the goal of making a better rail cover than what was currently on the market. Now, we are the industry leader, offering the best rail covers for MLOK and KeyMod rails. Our rail covers come in unique textures and colors to truly make your AR-15 stand out from the crowd. In addition, we offer railstops, as well as iron sights, light mounts, catch springs, and so many other AR-15 accessories.
Our mission is to be the best in the business when it comes to our rail covers and hand stops. Our hand stops are CNC machined out of 6061 Billet aluminum for durability, strength, and longevity. We are proud to be helping you become a better shooter.
If you are interested in our world-class rail covers and handstops, browse our website, and order today!