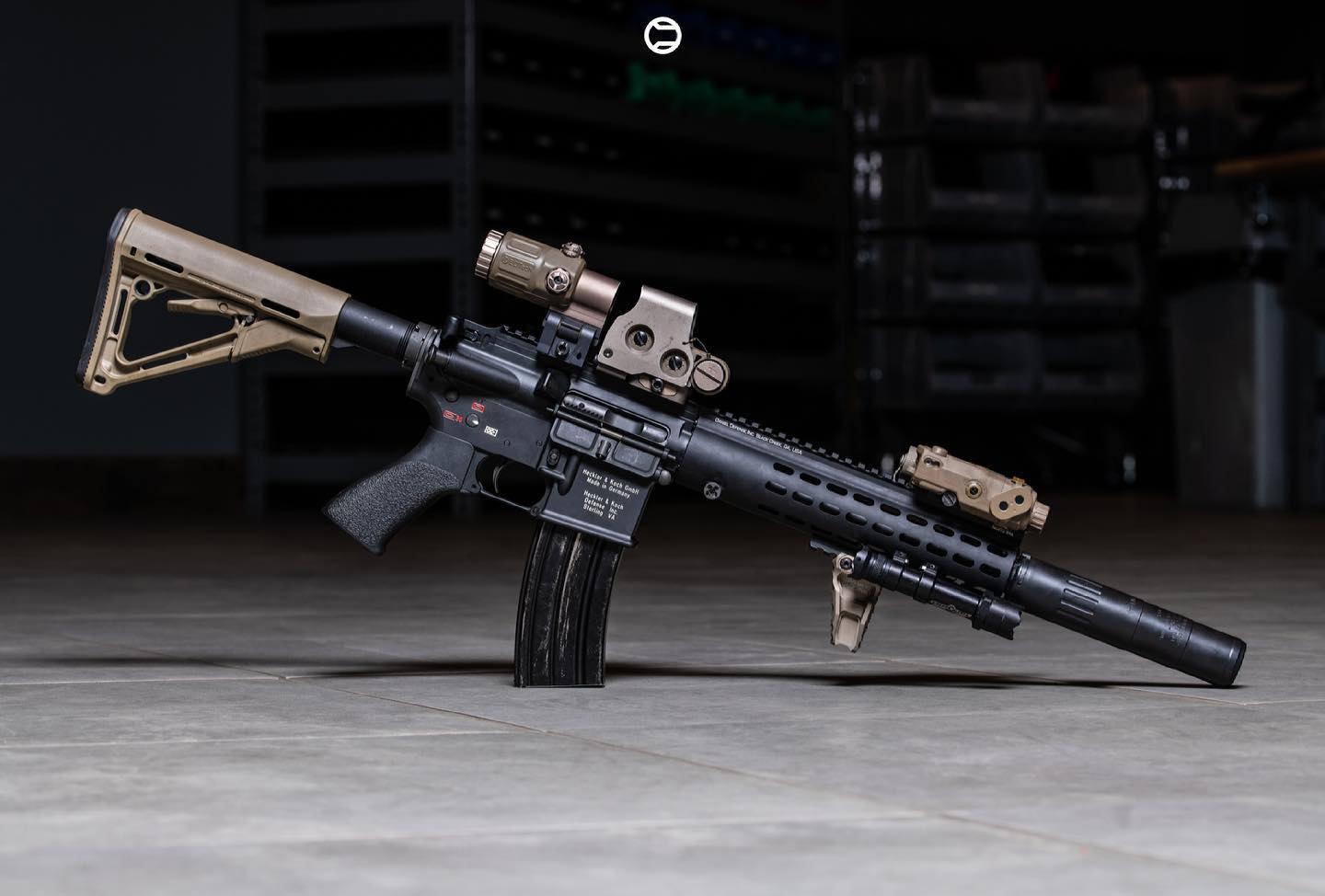 Building your own AR-15 allows you to customize your firearm to your exact specifications. Plus, you can put on whatever rail, rail covers, and sights that you like, and you can add in a custom paint job to your liking. If you like to work with your hands, building your own AR-15 is for you. But what tools do you need to build a custom AR-15?
RailScales offers the best foregrips and angled foregrips for your AR-15 on the market today. Made of G-10, which is a lightweight composite material, our MLOK and KeyMod vertical grips are engineered to be long-lasting, to tame the heat from firing, and to provide a secure grip every time you fire. Below, we'll go over some of the essential tools you will need to build your own AR-15. Shop our rail covers, hand stops, and 1911 grips online today!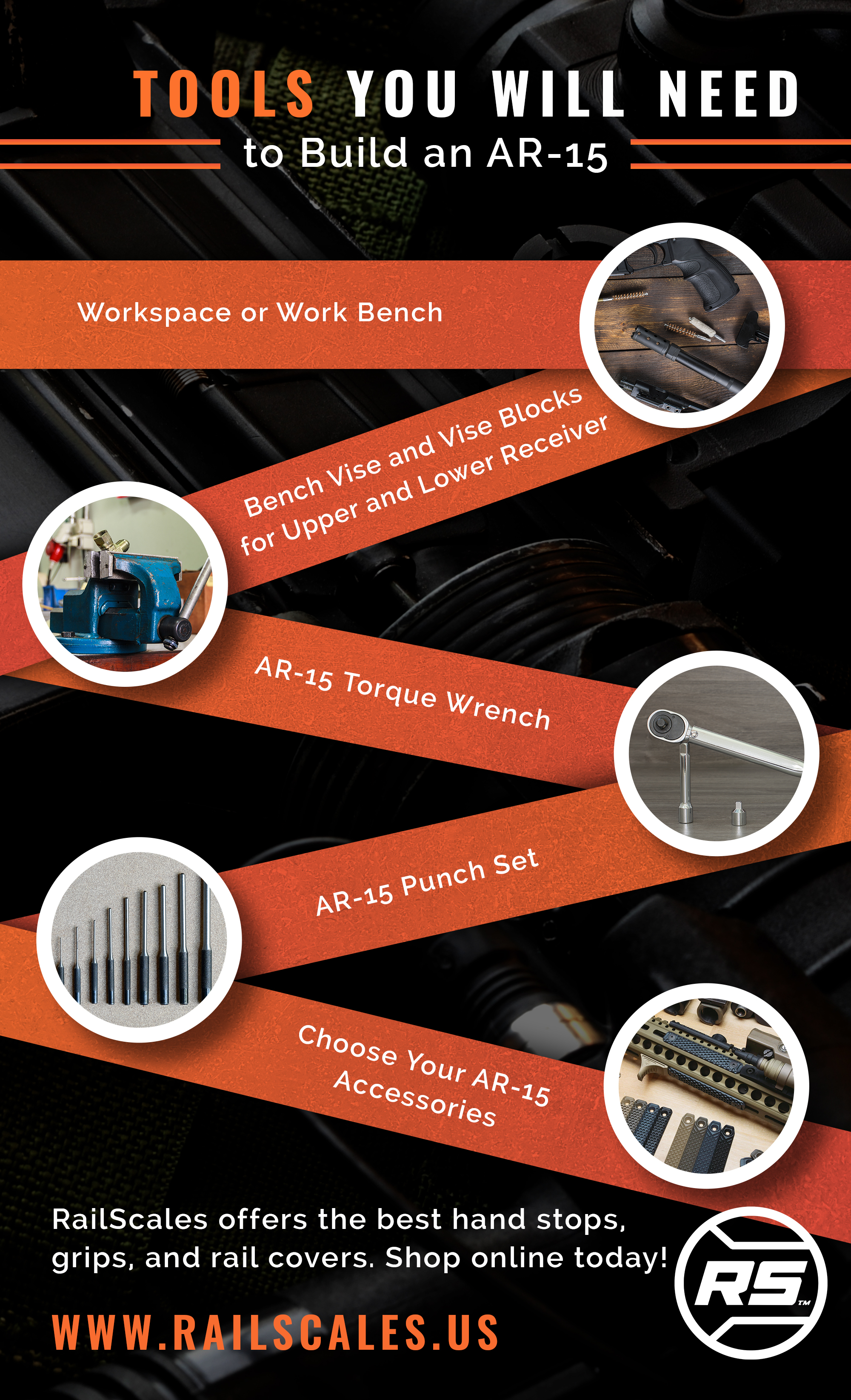 TOOLS YOU WILL NEED TO BUILD YOUR OWN AR-15
Workspace or Work Bench
It's best to have a dedicated space to work on your custom AR-15. This will give you plenty of room to spread out, as well as the ability to leave off when you are finished for the day. Many people make the mistake of using a space that doubles as something else, such as their home office, kitchen table, or even their kids' play tables. First, you can scuff up these items with your tools. Plus, you will most likely have to constantly put your work materials up and get them out constantly. This not only adds to the time it will take you to put together your AR-15, but it will quickly become a pain as well.
Bench Vise and Vise Blocks for Upper and Lower Receiver
This is one tool you will absolutely need if you are building an AR-15. A vise, in effect, gives you another way to hold the AR-15 parts you are working on, especially the small ones that are hard to hold with your hands. You will need a vise to put together your AR block kit, Gisselle rod, or upper clamp block. It is useful to hold your upper and lower receiver securely while you work on it, and a vise can be used to torque down your barrel nuts. Plus, vises ensure that your upper and lower receivers aren't damaged by an accidental slip. Look for one with a jaw size of at least four inches.
AR-15 Torque Wrench
When building your custom AR-15, a torque wrench is a must have so that you avoid over tightening bolts, which could cause damage to your firearm. You'll need to use a torque wrench to line the barrel nut up with the gas tube hole in the receiver, as well as to get the right torque specifications. It's important to get these components right as they are critical for safety when you are firing your AR-15. Many torque wrenches feature easy-to-read scales that make calibrating your torque a breeze, as well as clicks that help you to know when to stop and when to keep going.
AR-15 Punch Set
Many component parts of your AR-15 are admittedly small. By investing in a punch set that is specifically made for AR-15s, you'll ensure that you don't risk a misalignment or damage to the finish of your AR. AR-15s have a lot of roll pins that need to be installed. These pins can bend if you're not careful. Roll pin punches help you center the roll pin with their balled tips. It also helps prevent any pins from being in the wrong spot. These instruments are precise and work wonders for your AR-15 build. RailScales recommends that you invest in a high-quality punch set with tools made from steel for longevity and durability.
Choose Your AR-15 Accessories
While AR-15 accessories don't play a part in the actual build of your AR, having them on-hand or at least knowing which ones you want to invest in helps you when planning your AR-15 build. Furthermore, you can then invest in other AR-15 tools that will allow you to install your AR-15 accessories easily as well. From iron sights, such as our DBAL Lasers, to our G10 RailScales® in MLOK, RailScales offer many AR-15 accessories for your custom build. The parts above, as well as other handy tools, such as a hammer, an Allen wrench set, and a screwdriver set, can all help make your AR-15 build fast and painless.

CHOOSE RAILSCALES FOR THE BEST AR-15 FOREGRIPS TODAY
One of the best parts of building your own AR-15 is accessorizing it. RailScales has invested in bringing you the best AR foregrips, MLOK rail converse and sling mounts, handstops, iron sights, and more. We began with the mission to create a better rail cover that offered better heat resistance than what was on the market at the time. Our RailScales were born, created out of G-10 fiberglass laminate materials that offered a better attachment method, better protection, and a better grip.
We now make our signature RailScales for MLOK and KeyMod, and we offer our Karve handstops and QDX sling mounts. We offer the DBAL and PEQ iron sights, as well as the Ampule RDS tool. We understand that you want the AR-15 that you build to last, which is why we only use the highest-quality materials on the market today.
If you are looking for the best AR-15 accessories, shop RailScales today!