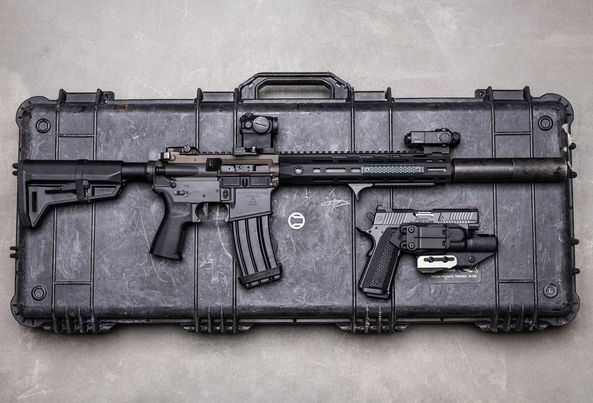 As a responsible shooter, it's always best to keep your AR-15 and other guns locked up when not in use. While you want to have one or two at the ready in case of an intruder, even those can be locked up safely. Many accidental shootings happen because of firearms falling into the wrong hands.
RailScales makes the best rail covers for your AR-15 in both MLOK and KeyMod rails, 1911 grips, Karve handstops, fixed iron sights, and more. Our passion is to bring you the highest-quality AR-15 accessories so that you enjoy your time shooting and want to practice more. After all, what could be better than a day at the range with your friends and family? Below, we'll take a look at the different types of gun safes for your AR-15. Shop our tactical grips today!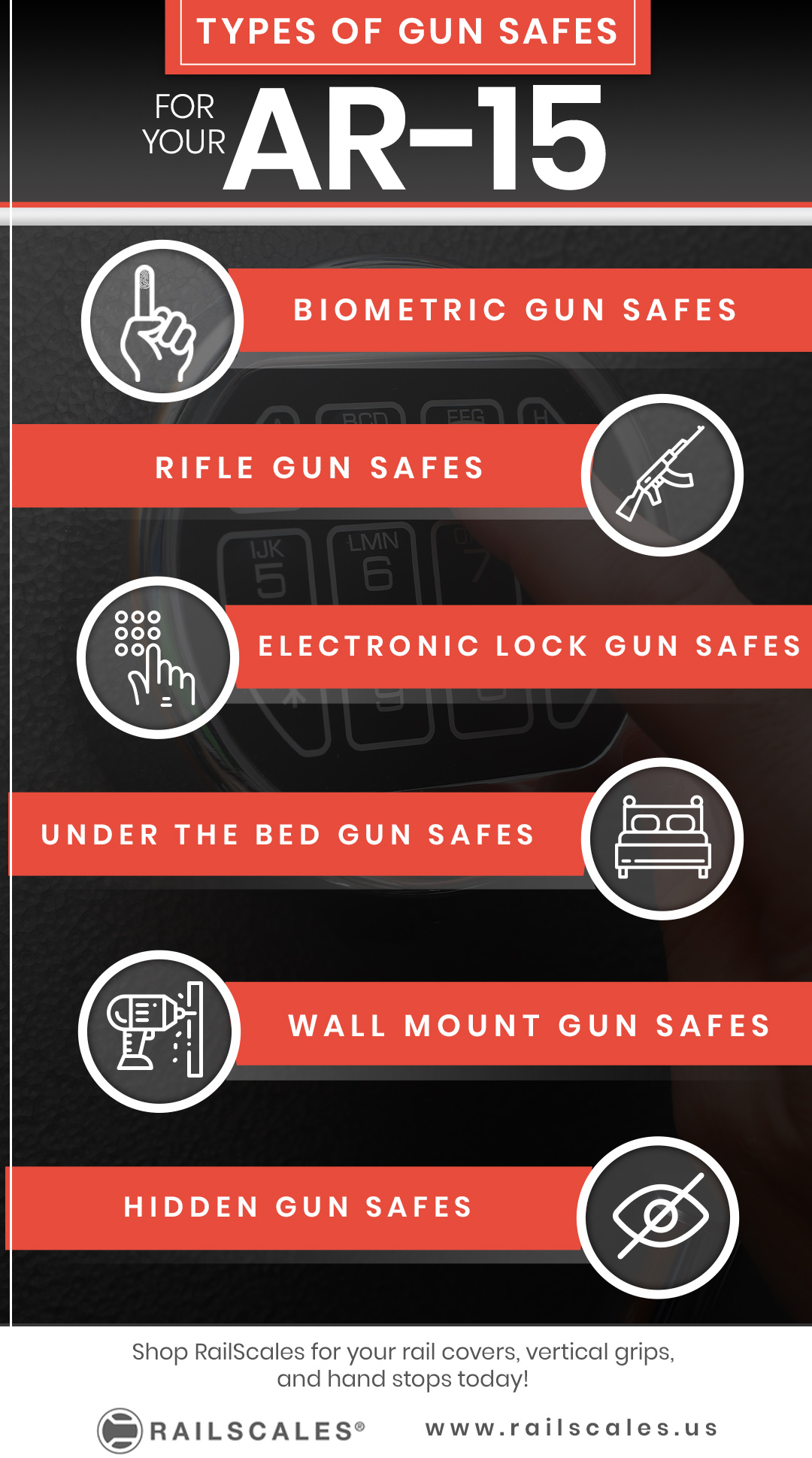 TYPES OF GUN SAFES FOR YOUR AR-15
Biometric Gun Safes
Many people argue against having a gun safe because in the heat of the moment when you are trying to enter a combination, it may be too late to retrieve your firearm in an emergency situation. Biometric gun safes eliminate all of that worry. These gun safes read your palm or your fingerprint instantly and only open for an authorized user. An intruder or someone else, such as a child, would not be able to open one of these safes, giving you peace of mind that not only is your gun safe, but also that you can access it quickly when needed.
Rifle Gun Safes
A rifle gun safe is made specifically for rifles. They are tall enough for the large AR-15s and big enough to hold your extra gear, such as extra ammunition, and roomy enough to accommodate your scopes. Plus, most rifle safes are tall and skinny, so they don't take up as much room as traditional gun safes. This also means they are not as heavy, which is another reason people don't invest in traditional gun safes for their home. Do remember that if you plan on adding to your gun collection over time, it's best to buy the next size up in gun safes so that you won't have to buy another one any time soon.
Electronic Lock Gun Safes
Electronic lock gun safes for AR-15s are extremely popular and are opened and closed by using a keypad. Some newer electronic lock gun safes have a small screen to see the numbers entered, too. Some have an additional security code as well for owners to enter. These gun safes come in many different configurations and sizes, so it's important to understand your needs, the length of your gun, and how many guns you will be storing in order to find the right fit for you.
Under the Bed Gun Safes
Many people love under the bed gun safes for their AR-15s. After all, if an intruder comes, it's most often at night, and you'll most likely be in bed. Many of these gun safes feature steel construction, an easy-to-open electronic lock with an illuminated keypad, and a slide-out gun tray for quick access. These gun safes are designed to fit underneath most beds unseen, which is perfect for if you have frequent guests or children in the house.
Wall Mount Gun Safes
A bit on the untraditional side, wall mount gun safes are gaining popularity as they are easy to hide, quick to access, and can be stored, loaded and ready to go. These AR-15 gun safes can be mounted hidden in your closet or behind furniture. They are made of steel with a push button that can be opened in seconds. The trigger is fully enclosed within the safe, so you can store it loaded, along with extra clips. This is the ultimate safe for someone who wants to be able to access their firearm in an instant if something happens.
Hidden Gun Safes
Hidden gun safes are gaining in popularity because you can have your AR-15 hidden all over your home for easy access. After all, you can't predict where an intruder will enter or which room you will be in when they do. Hidden gun safes have traditionally been incorporated into furniture so that no one knows there's a gun there but you. Coffee tables, book shelves, cabinets, armoire, concealment mirrors, benches, shelves, and more are popular choices.

CHOOSE RAILSCALES FOR YOUR RAIL COVERS TODAY
Here at RailScales, we understand that many people invest in AR-15s for personal security, so we thought we'd highlight some of the many AR-15 safes on the market that can help you keep your gun safe, as well as have easy and quick access to it.
RailScales began in 2014 with the idea to manufacture a better textured G10 scales for AR-15 KeyMod and MLOK rail systems. We wanted something that was easy to install and stay one, as well as offered better heat resistance and looked good too. From there, we expanded our line up to include our Karve handstops for AR-15s that are versatile and comfortable. Our vertical grips have been designed with ergonomics in mind to give you a better grip as well. We offer 1911 grips, iron sights, and many more AR-15 accessories.
Our mission is to make your shooting comfortable so you can get better and enjoy your time on the range. If you are looking for the best AR-15 angled foregrips, hand stops, and rail covers, shop with us online today!