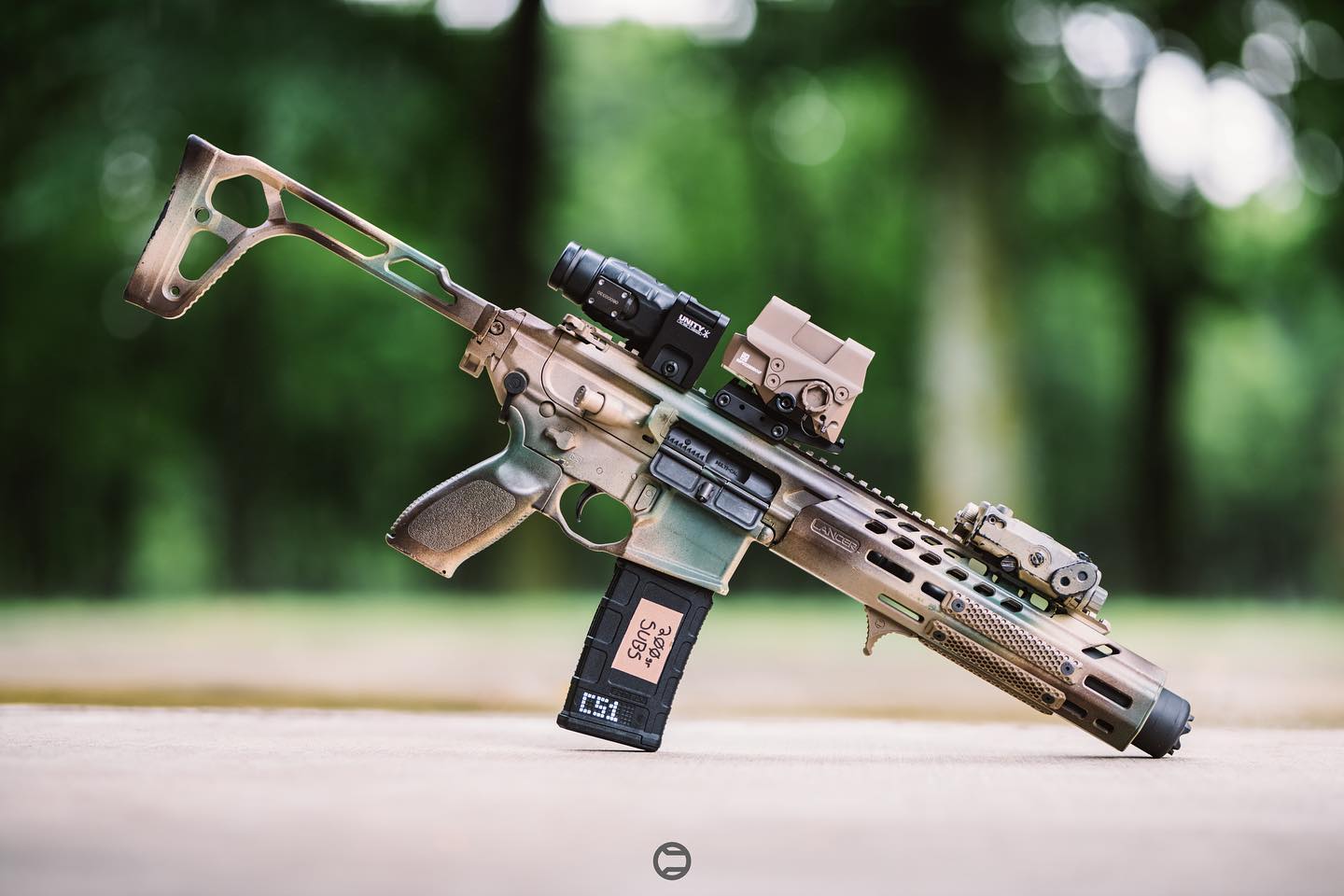 As we've been discussing on our blog, there are many ways to improve your shooting skills, from practice to focusing on your stance. Another way to improve your shooting skills is to focus on improving your grip strength.
RailScales understands the importance of grip strength. We manufacture the best rail covers and grips for your AR-15 as well as for your 1911. These best grips are textured, so your grip won't slip. In addition, they are super lightweight and thin, so you'll barely know they are there. Plus, they come in a variety of colors, and they have great hardware so they won't slip. Below, we'll take a look at some tips to help you improve your shooting grip strength. Shop our online rail covers today!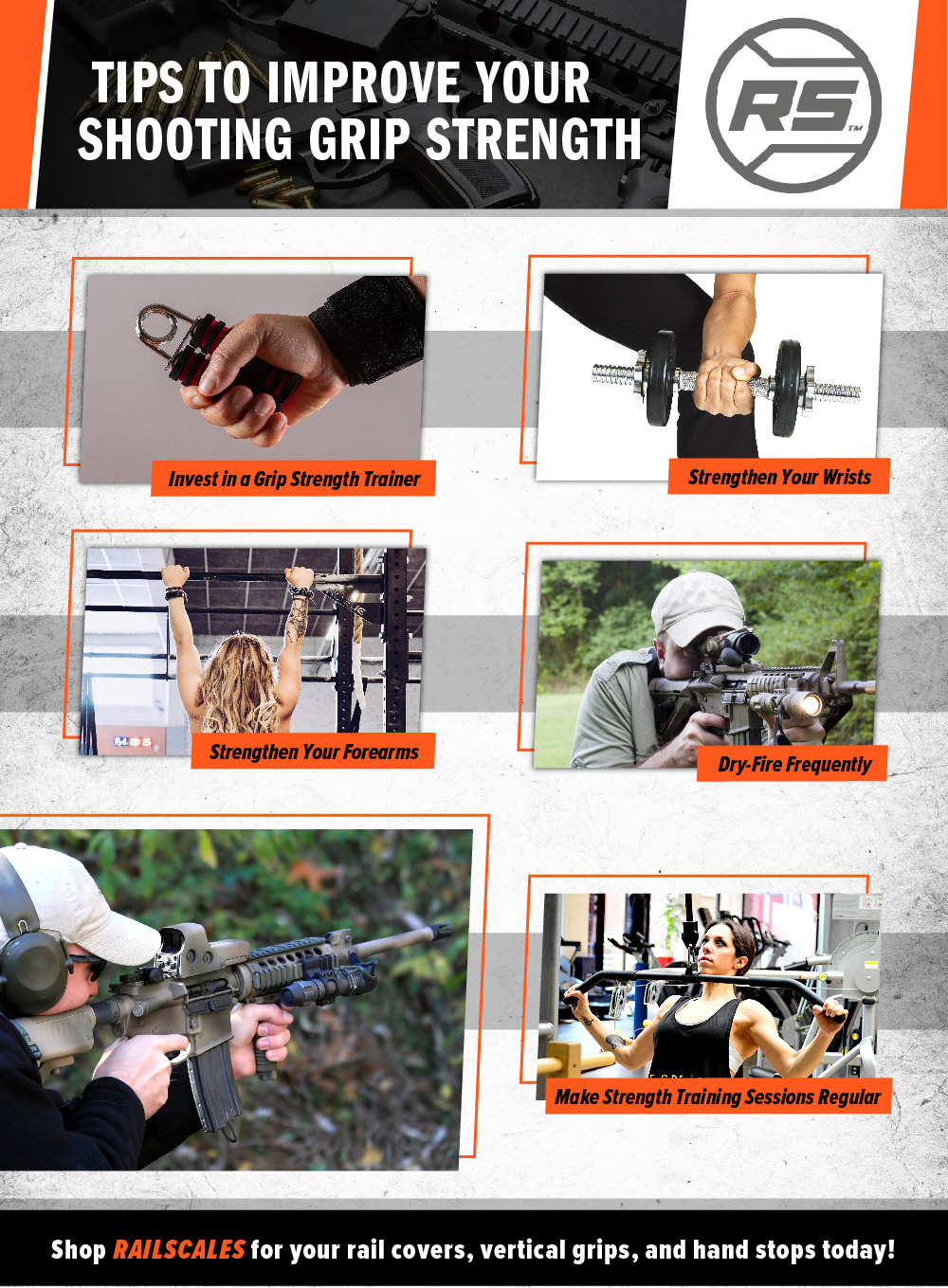 TIPS TO IMPROVE YOUR SHOOTING GRIP STRENGTH
Invest in a Grip Strength Trainer
Grip strength trainers have been around a long time. While popular amongst bodybuilders and weightlifters, these small, hand-held devices are perfect for anyone looking to improve grip strength, including shooters. You simply purchase a pair, and every so often, squeeze away. These come in different resistances, so you can play around with the one that works best for you. In general, lighter weighted ones will help improve endurance and grip strength over time. You'll soon notice an increased strength in your fingers and thumb, which is crucial for when you are holding your firearm and pulling the trigger.
Strengthen Your Wrists
You'd be surprised how big of a part your wrist plays in holding, supporting, and firing your gun. Your wrist links your hand to your arm, all of which have to stay steady for accurate shooting. To increase your wrist strength, you can invest in specific wrist strengthening tools similar to the grip strength trainer that you can find online, or you can work on strength training and lifting as well. You can invest in affordable resistance bands, and a set of lighter dumbbells with wrist curls works as well. Even a squeezie that you have at your desk and squeeze every now and then can work wonders.
Strengthen Your Forearms
Strong forearms can help improve your shooting skills, too. You'll be better able to handle recoil, and you'll be better able to hold your gun steady when firing. Again, there are many tools available online, but performing exercises that target the forearms are great, too. Some of these are climbing rope, pull ups, and hanging from a pull up bar. You can use this same pair of light weights that you use to strengthen your wrists to help strengthen your forearms as well. Carrying dumbbells also strengthens your forearms because gravity pulls the weight down, forcing your forearms to bear the weight.
Dry-Fire Frequently
Dry firing your firearm is where you practice firing when your gun has no ammunition. This is a tried-and-true drill that will help you in all aspects of shooting, from improving your accuracy to helping with recoil and helping with grip strength. The longer you hold your firearm, the more you will be using your strength. You can most definitely fire longer with no ammunition. You won't have to stop and reload, clean up your empty shells, or spend money on ammunition. Plus, there is no need to wear ear protection since the only noise will be the sound of the trigger being pulled.
Make It Regular
If you have lifted weights or embarked upon a fitness routine, you know that consistency is the key. If you want to see results, they don't happen overnight. You have to keep moving and improving if you want to make changes to your body. The same goes for grip strength. You have to ensure that your grip strength training is regular and consistent. Going all out for one week and stopping won't result in anything but sore muscles. You have to make grip strength training a regular part of your day. One of the easiest ways to do this is to incorporate grip strength training into an exercise routine that you'll stick to. Then you'll be sure you don't forget, and before you know it, your grip has improved immensely.

SHOP OUR WORLD-CLASS RAIL COVERS ONLINE TODAY
RailScales offers the best rail covers, handstops, and other AR-15 accessories online. Our industry-leading rail covers for MLOK and KeyMod rails can't be beat. They offer added grip and heat protection and are super easy to install. Plus, they look good. They can even melt into your firearm if you choose a matching color. If you've ever felt the heat of repeated fire, then you know how important it is to protect your hands. Our rail covers are made from a fiberglass laminate composite material that is one of the toughest available. You can expect a super thin rail cover that is affordable.
RailScales also offers vertical grips that are CNC machined from the finest aluminum and are designed for ergonomic efficiency. You'll love these that fit both MLOK and KeyMod rails and take up hardly any room at all. Check out our fixed iron sights for lasers and more. We offer a generous hassle-free return policy, as well as a great exchange and refund policy. We want you to be 100% satisfied with our products. Check out our discounts for military and first responders, too.
If you are looking for some of the best AR-15 accessories in the industry, then shop RailScales online today!